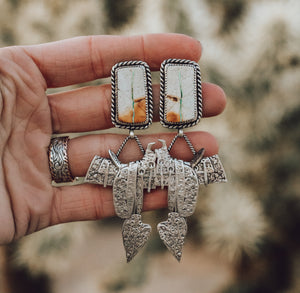 Tapadero Earrings
These also almost became part of my personal collection along with the Bronc Stomper Earrings. Listen, even artists are weak when it comes to turquoise! They feature some fantastic Royston Ribbon stones, accompanied by a pair of sterling silver saddles. 
This set comes with a pair of my extra large earring backs, trust me they make a major difference when wearing earrings all day! More surface area for the back to sit against means a more comfortable wear. 
Stamped sterling and signed with my maker's mark.